Ondo FIBAN Felicitates Ireshi of Osi on Stool Recognition by Government
…Decorates monarch as associate member
The Freelance and Independent Broadcasters Association of Nigeria, FIBAN, Ondo state chapter, has congratulated the Ireshi of Osi kingdom in Akure North local government area of the state, Oba David Olajide Okunato, on the recognition of his stool by Ondo state government.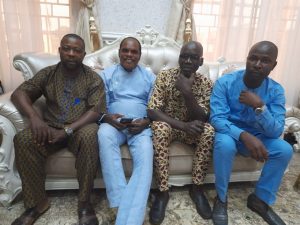 The Iresi stool is one of the sixty traditional stools recently recognized by the Ondo state government in addition to upgrading one hundred monarchs across the state, as announced by the state's information commissioner.


Chairman of FIBAN in Ondo state, Comrade Femi Oguntuase, who led a delegation of leaders of the association to the king's palace during the celebration of the town's new yam festival described Oba Olajide as an uncommon monarch whose dedication to the development of his town and anyone who crosses his path is outstanding.
Oguntuase, while decorating the Ireshi as an associate member of FIBAN, praised his giant strides in putting Osi on the world map in less than ten years of ascending the throne of his forebears.
According to Oguntuase, the monarch's "landmark infrastructures across the town and drive to attract development partners must be commended.
"Not just this alone, your support to all media professionals in the state, from FIBAN, NUJ, to RATTAWU is unequalled, and that is why the leadership of FIBAN in Ondo state has chosen to honour you as an associate member of our association.
"It is our belief that this will spur you to do more for your people and humanity at large".
Oba Olajide in his response thanked FIBAN for the honour and promised never to rest on his oars in giving his best for the betterment of Osi kingdom and everyone around him.
On the entourage of Comrade Oguntuase are former National General Secretary of FIBAN in Nigeria, Dr King Adenuga, former Chairman of the association in Ondo state, Prince Adeniyi Adebayo and a veteran broadcaster, Alhaji Badmos Idowu.