Ondo APC Rep, Adeogun Preaches Peace, Party Unity At Election Thanksgiving
The lawmaker representing Akoko Southeast/Akoko Southwest Federal Constituency in the National Assembly, Hon. Ade Adeogun has urged his followers and party members to drop individual grudges and embrace peace and Unity in the Party.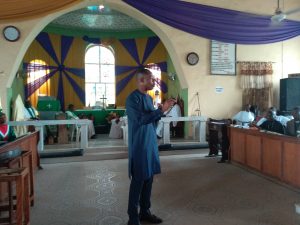 Adeogun said this during his election thanksgiving service held in his Oba Akoko country home on Sunday.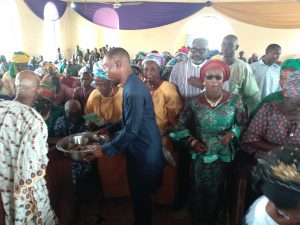 The lawmaker during the service at St. Peters Anglican church, Oba Akoko described his victory in the last election as a call to service, while assuring his constituents of quality representation.
Adeogun also called on all APC members in Ondo state to close ranks, irrespective of their grievances in order to move the party forward.
He said:
"I've said this on several occasions that if Anyone think they want to move forward and get progress from God, you may have to first drop some baggage that are weighing you down. And sometimes these baggage comes in form of bitterness. Discard the bitterness in you so you will be able to move forward. Reduce the weight."
"My politics has ever been very straight forward, there has never been any doubt about what I want. We can't develop if there is no peace and APC as a Party can not move forward unless there is peace. So I just feel that we have to embrace peace so we can move forward. A house divided against itself can not stand so we can't afford to be divided now. "
During his remarks, the Ondo state chairman of the party, Hon Ade Adetimehin advised the lawmaker to put his people first and not forget the Party that brought him to power in all his dealings in office.
Other dignitaries at the event Include the lawmakers representing Odigbo/ ile oluji oke igbo, and Idanre/ Ifedore federal constituencies, Honourables Mayowa Akinfolarin and Tajudeen Adefisoye, a former deputy governor of Ondo State, Alhaji Ali Olanusi, Dr. Olusegun Abraham, Rt. Honourable Victor Olabimtan, traditional rulers, Political leaders and clerics among others.