How Late UI Maths Lecturer Resigned To Protest N60,000 Deduction From His Salary
A former mathematics lecturer with the University of Ibadan, Mr Zubairu Aminu Othman, who died last week, was said to have resigned his appointment following the decision of the institution management to deduct N60,000 from his salary.
Though the institution management said investigations to ascertained the cause of his death have been launched, it had been widely reported that Zubairu, who had been on his Ph.D programme for over 20 years, committed suicide.
While it is yet to be confirmed as to either or not the deduction was the cause of his alleged depression, it was learnt that Zubairu, who is from one of the Northern Nigerian states, had been separated from his wife and three children.
Multiple sources said he had marital issue and in order to cater for the wife and children, who had moved out of the deceased UI residence, the university allegedly decided to be deducting the sum from Zubairu's salary, an action which reportedly infuriated him.
Zubairu, report says had been facing domestic and academic pressure for years, having been on a Ph.D. programme for many years and had once had a cause to be summoned to the Social Works Department of the university for mediation on a "crisis between him and his wife.
However, it was gathered that the deceased had, sometime in 2017, resigned his appointment with the university in protest against how N60,000 monthly deduction was allegedly made from his salary, following a 'court ruling' on an issue he described in a handwritten resignation letter as "family problems."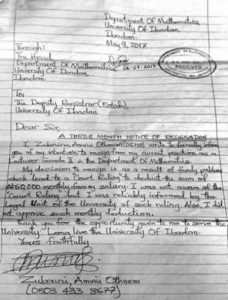 In the letter dated May 9, 2017 and signed by the deceased, the deceased had given a three-month notice of resignation to the university, saying:
"My decision to resign is as a result of family problems, which led to a 'court ruling' to deduct the sum of N60,000 monthly from my salary. I was not aware of the 'court ruling' but I was reliably informed by the Legal Unit of the university of such ruling. Also, I did not approve such monthly deduction."
It was gathered that the apartment Zubairu occupied was recently reallocated to another staff, though this could not be confirmed as of the time of filing this report, a development which sources noted might have led to further pressure on the man.
The deceased's wife, neighbours and former students, however claimed that Zubairu was not suicidal, as he was a peaceful and reserved man.
One of his undergraduate students, on hearing of his demise, queried: "Why? Can it be because of his Ph.D.?"
Another UI graduate who was taught by the late Zubair at undergraduate level described him to be a thorough, disciplined and strict lecturer.
But Mrs Fatima Zubair, while speaking with Sunday Tribune said:
"I am short of words. He was easily accessible, friendly. I was not with him when it happened. I was called and had to rush down there."
She gave an account of how the deceased had been caught up in the inferno, though he did not suffer a burn and he was "rushed to the hospital but could not be revived."
When asked about the claims that the deceased was frustrated over his lack of success over a Ph.D. degree, she replied saying that she was not going to speculate on that.
The encounter, however, got heated when Sunday Tribune, through a text message and subsequent phone call to Mrs Zubair, asked her to confirm the veracity of speculations that the marriage had hit the rocks and that the deceased resigned following a monthly deduction of N60,000 from his salary for his children's upkeep based on a court ruling.
A male 'family member' who refused to give his name, told newsmen to stay with the university's account of the incident.
The 'family member' had, however, called a second time, saying that "we will appreciate if you do not print out anything that is libelous or scandalous against the wife of the deceased.
Anything that is printed that is not true or outside or contrary to the press release of UI, we might actually take it up with your medium.