COVID-19: NGO Donates Food Items in Osun Community
A non-governmental organization, AAA Foundation has donated food items to over one thousand benefitiaries in Modakeke Community of Osun state.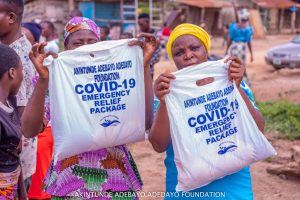 Speaking at the donation venue on Sunday, the founder of AAA foundation, Mr. Adebayo Adedayo Akintunde appreciated his team members for their support in making the event a reality.
His words:
"When we work together, we are greater than the sum of our parts." – The AAA FOUNDATION is reflecting its ability to bring people together to tackle big issues that COVID19 might have caused among our people."
"At AAA Foundation, we are excited to be functional at this crucial time. We are indeed delighted to extend our arms of charity to give palliatives to our people as a support in the fight against COVID19 resulting in the current lockdown within the State by distributing relief packages comprising of food items such as; RICE, GARRI & VEGETABLE OIL in MODAKEKE TOWN, Osun State."
"I am especially pleased to do this because I am one of the native sons of Modakeke. I thereby deemed it fit to support our people in our little relief package. Charity is cardinal to what AAA Foundation stands for. As most of you will want to appreciate, no one, not even me, will say no to the welfare of the State of Osun and Modakeke town. So I had no choice anyway."
"When we work together, we bring unlimited creativity and passion to the table. When we work together, we can achieve incredible things."
"Everyday we want to celebrate this spirit of togetherness. We want to reflect on what we've achieved to our people. And we want you to work with us as we consider what we might do next."
"Thank you for your support and Patient.Together we shall fight and Conquer COVID19."
"Stay Healthy. Stay Home. Stay Safe…" he concluded.
The benefitiaries in their reactions thanked member of the Foundation, while praying for God's grace and upliftment in their endeavors.
Governor Gboyega Oyetola of Osun state had ordered movement restrictions all over the state, following the confirmation of cases of COVID-19 infections in the state, a development that has made life difficult for many daily income earners.